Frequently Asked Questions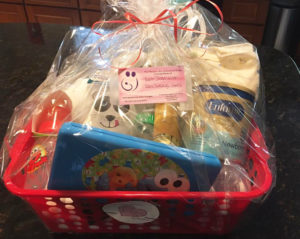 What if I know someone who could use a basket?
Please email me all information including any specific items (if possible) that the mom is requesting and we will do our best to put together a useful and lovely basket for them!
How can I donate?

You can drop off any items for children from newborn to 5 years old to any of our 4 drop off locations listed below.
Where can I bring donated items?
I am happy to announce that we have 4 drop off /pickup locations: West Babylon, Hicksville, Sayville, and Commack. Please contact FOMTA to coordinate a convenient time and place.
Can I write a check?
Yes! Please write checks payable to From One Mother To Another. Checks can be mailed to:
From 1 Mother 2 Another
c/o LI Urgent Care
403 Little East Neck Rd.
West Babylon, NY 11704
You may also donate through PayPal. Your donation may qualify as a charitable deduction for federal income tax purposes. Please refer to Charitable Contributions on the IRS website for more information.
Who do I contact for information?
Please send any inquiries to contact@from1mother2another.org or fill out our contact form.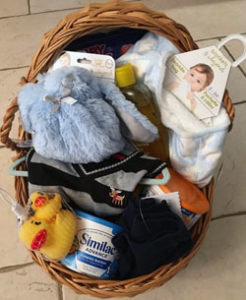 To whom do these donations go?
We have individual moms who reach out to our charity and we personally deliver these baskets. In addition, we work closely with the amazing LI Angels who serve families all over Long Island. Our baskets are also given to moms in shelters and hospitals. In addition, many baskets are gifted via LI Urgent Care in West Babylon to patients/ families.
What items should I include in a basket?
Please feel free to personalize any basket. We typically include: diapers, wipes, ointment, clothing, pajamas, bath needs, blankets, towels, shoes, undergarments for toddlers, onesies, formula or breastfeeding needs, toys, outerwear etc. Baskets can be gender specific or neutral.
For what ages and gender are the baskets made?
Our baskets are for boys or girls ages newborn to 5 years old.
Is there anything not allowed in the baskets?
We tend to keep any food items as universal as possible to avoid any unknown allergies. We also would only include age appropriate toys and toys that do not require batteries. Please use your best judgement if you would like to make a basket. If you have any questions or concerns do not hesitate to contact me.
Does FOMTA have any additional resources to offer to moms/families?
Yes. We work closely with LI Angels who are able to provide other items to families in need. In addition we have contact information for family services and physicians as needed. All communication is private as we follow the appropriate HIPAA guidelines.